Bottom Line
Bottom Line is Real Teens VR is a welcome addition to the constantly expanding world of virtual porn. The girls here are smokin' and the scenes definitely amount to some of the best vr porn we've seen in awhile. Hopefully they keep up with the updates because right now it's a pretty small library.
 Positives
Inexpensive, Weekly Update Schedule, Great Quality
 Negatives
Small library, No extras or Bonus features, Simplistic Design and User Features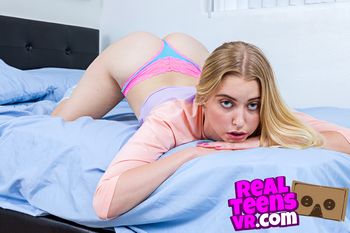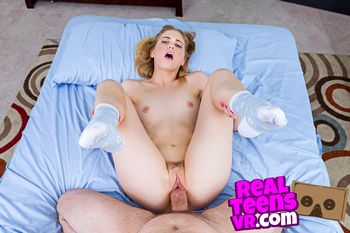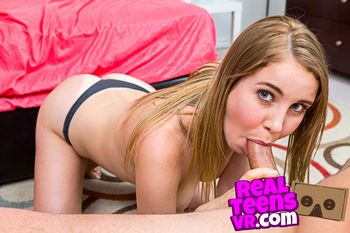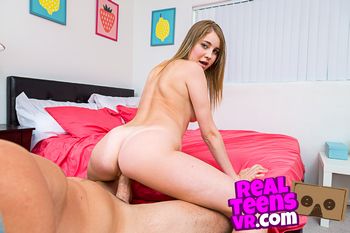 More details about

Real Teens VR
---
Okay, we all know that everyone loves some good old fashioned teen porn. It's been beaten to death but we still can't get enough. It's probably the innately horny and exploratory nature of those 18-19 year old girls that drive men and women wild. Come on, don't shake your head, you know you're thinking exactly the same thing! Thankfully, that same playful sexuality has arrived to the VR space with
Real Teens VR
.
They haven't been around long, but they're beginning to establish themselves as one of the best VR hardcore porn sites on the web. If the whole deal looks familiar, it's because this is part of the Naughty America Family. Surely you've seen their stuff before (if you haven't, you should go check out our review) and know that it's definitely great porn. They've brought that same talent here and let me be the first to tell you, the result is great!

A small but growing site with great potential!
In terms of total content, you're looking at 11 videos available at the time of review. They appear to be trying to update on a weekly basis so in a short time they'll likely have a much more sizeable library. And don't despair because these videos are absolutely stunning. The models are super hot, and the action is even hotter. My favorite scene features Peyton Robbie, a 19 year old brunette sex goddess with lips that where born to suck men dry. The way her ass bounces up and down on your cock in this video will drive you absolutely wild!
Each video is shot in great 180 degree 3D and 60 fps with binaural audio (that should be the standard you hold all sites to, fyi). The videos themselves look fantastic in full HD. Depending on what device you're using you'll have different levels of quality, but my guess is that no matter which you have at your disposal, you'll leave immensely satisfied with your experience. Currently the devices accepted her include android and iPhone, as well as Samsung Gear VR, HTC Vive, and Oculus Rift. If you're wondering what the hell these things are, then check out our review of BaDoink VR for a quick rundown on what all this VR porn stuff actually is!
The overall layout of the site is very simple. It's clean and the design is bright and upbeat. Once you login you'll instantly be able to start downloading the videos. There's currently no model index or any navigation features whatsoever. In the future, we'd hope that they will add at least a basic search option but at this stage in the game, with such a small library, there's not very much need for it.
If you're curious about what the scenes here are like, you can always opt to go for the dollar day membership that allows you to download one video. That'll give you a good taste of what you're looking at and help you decide if this is the VR porn site for you.
Small, but great VR porn site for fans of hardcore teen porn!
Sure, it may be small now, but there's a saying that says all great things have small beginnings! If this site is like it's fellow Naughty America sites, then that will definitely be the case. If you're a fan of hardcore teen porn featuring true teenage beauties aged 18 and 19, then you really can't go wrong by checking out Real Teens VR. These guys know what they're doing when it comes to quality and technology, as well as picking the hottest, nastiest girls to get dirty in these great scenes!
By joining Real Teens VR you also get FREE ACCESS to these great pay sites as a bonus!