Bottom Line
Bottom Line is BaDoink VR is definitely one of the best options for 360 vr porn and is without a doubt growing rapidly. With great quality available, and an increasingly library of content, we don't have any qualms in saying that with time this will be one of the big players in vr porn!
 Positives
Weekly Updates, Free Goggles with membership, Full 360
 Negatives
Lacks a search function, Older content not 60fps, Still on the small side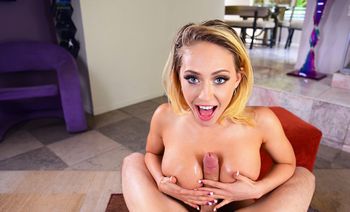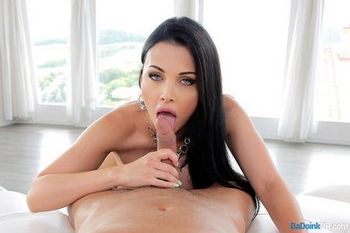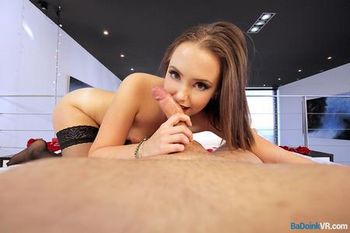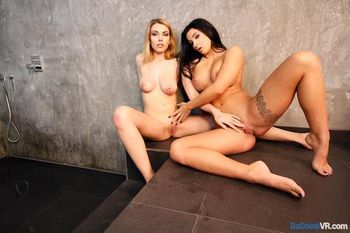 More details about

Badoink VR
---
Ever wonder why we don't have the flying cars and other technological wizardry that we where promised would be here by now? Well the answer is simple! It's because all the scientists where to busy figuring out new awesome ways to jack off to do anything else and ta-da, the advent of virtual reality, or VR, porn! If you're new to this concept, the site
BaDoink VR
is as good a place to start as any. These guys are moving quickly to position themselves as one of the top vr porn sites on the web. They've got quite the following, and it's no wonder because they're doing a lot of things right!
It's not a flying car, but it will get your dick rock hard!
The first thing your going to need here, as is the case with any VR porn site, is a headset. You can opt for one of the major devices out there like the Samsung Gear VR or the Oculus Rift (that's a personal favorite of some members of our staff), or you can go the dirtbag route and make your own with cardboard and a smartphone. Hook it all together and you've makeshift vr glasses. In the case of this site, all options are supported, but if your truly serious about this stuff, then I'd go for the Oculus because that is one sexy machine! The folks here at BaDoink are dedicated to the cause, however, and if a new set of goggles isn't in your budget, they'll send you a cardboard for free when yo sign up!
When it comes to video speed here, users are happy to report that all the new videos are now being released at 60 fps. For the most part you're looking at 180 degree 3D video, but some allow you complete 360 degree viewing power. I don't really know why you'd want to look around the room though when there's a naked woman sucking your cock right there in front of you!
The scenes themselves are pretty straightforward. Usually a girl comes in, she plays with your dick a bit before sucking it and riding it. If you're lucky there'll be two horny ladies. You'd be forgiven if that just sounds a little too boring. The folks here heard those cries and now there are scenes involving actually storylines being released including a massage scene, as well as a full on BDSM scene. In total users are looking at just shy of 30 scenes with a new one being added each week. Sure, that sounds pretty small but in the world of VR porn that's definitely a respectable collection!
As far as quality is concerned, the videos themselves look great. You'll find full HD video available for all of the scenes and if you're using one of the more popular devices like the Oculus or Samsung ones, you'll find that there are videos specifically optimized for you and waiting to be watched. When it comes to the downloads, they're quick and in no time flat you'll be enjoying your chosen video.
As is the case with a lot of VR sites, the design here is pretty basic. We're talking a simple layout without the bells and whistles that a lot of traditional porn sites contain. What's more, we were a little surprised to find nothing in the way of navigation features. It would be great to see a model directory added, or even to just have some categories let alone a search tool! Now that these guys are starting to get bigger, it's probably time to start thinking about some of those features.
Definitely a solid site for VR fans seeking great hardcore porn!
There's no question that BaDoink VR is one of the top contenders in the race to become a top VR porn site. Updates are coming every single week and the quality is definitely up there with the best. Plus, if you haven't gotten on board with VR yet, you can always get them to send you a free cardboard conversion kit and you'll be watching from your smartphone in no time flat. Maybe it's time to get on board the wave of the future? Whaddya say?