Bottom Line
Bottom Line is Virtual Porn Desire offers another great addition to the growing list of popular top cardboard porn sites. With hot European babes who suck cock and ride dick like there's no tomorrow, you'll love what's on offer here without a doubt! If you've experienced other vr sites and want more, this is a great option!
 Positives
Great Quality, Scheduled Weekly Updates
 Negatives
Small Collection, Only One Resolution Option, Simplistic Plot lines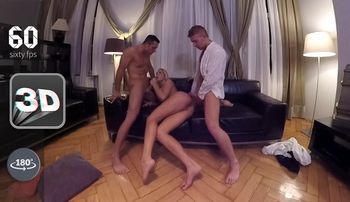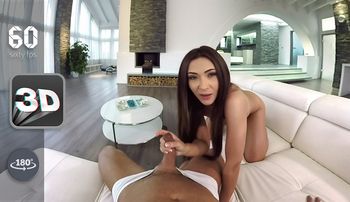 More details about

Virtual Porn Desire
---
If you're a fan of VR porn and have already checked out the other major players in this scene, then I'm happy to introduce you to a new site that definitely shows a lot of promise.
Virtual Porn Desire
is a great European based VR porn site that offers up beautiful Euro models in fantastic, high quality hardcore scenes. I don't know about you, but there's something infinitely enticing about European babes. Even though they're some of the naughtiest ladies on the planet, they always manage to hold some sort of innocence that is incredibly easy to fall for. Like the sound of that? Well read on and you might find yourself forking over your hard earned cash to see more of these luscious beauties!
As we're all aware, VR porn sites are generally speaking, in their infancy. This means that they're typically pretty small. (To check out some of the biggest, you might want to see our reviews of Holo Girls VR and BaDoink VR). That's the case here, though thankfully, they're growing. With members currently enjoying just over 15 videos, there's no way you can call that anything but tiny. That said, they're typically adding at least three new videos a month, though the update schedule isn't fixed, so hopefully soon we'll be looking at a pretty sizeable collection.
Solid specs go for gold here!
As far as tech specs go, these guys definitely know what they're doing. All the videos are shot in 180 degree 3D at 60 fps. Some of the biggest sites didn't start out like this, so that's a good sign for these guys. You'll find that videos are available for most of the popular devices, as well as higher end smart phones. Unfortunately there's only one resolution (2880 x 1620) but that didn't really detract from the videos. In terms of how the videos themselves look, we were very impressed by the realism of the models as well as the accurate scaling and correct coloration visible in each of the scenes. Nice job, guys!
By and large the site design is pretty good. As you might expect, it's extremely simple. You won't find a model directory, or anything in the way of navigational features. Hey, with this few videos none of that is necessary at the moment though hopefully with time they'll incorporate those features into the site. Downloads are generally pretty fast and you'll quickly be enjoying all they have to offer in utlra realistic virtual reality.
Definitely a good option for those who enjoy VR and European babes!
There's no denying that the ladies at Virtual Porn Desire are some sexy fucking women. With names like Christen Courtney and Gina Gerson, as well as many other famous Euro porn stars, you'll definitely be in heaven with these feisty ladies. The scenes are by and large pretty simple, but they've definitely got you covered when it comes to the shooting technology. Check them out if you're looking for something new and have already visited some of the other larger VR porn sites!