Bottom Line
Bottom Line is The Upper FloorM/em> is a top fetish site where you can watch some of the hottest BDSM scenes on the net. The models that appear on these videos do enjoy dominating or being dominated, so the action comes in its purest form for your enjoyment as you watch the pain and pleasure levels increase intensely.
 Positives
Free live shows can be watched, Lots of HD content Updates content every week
 Negatives
There are no advanced search options, The site does not have a Favorites list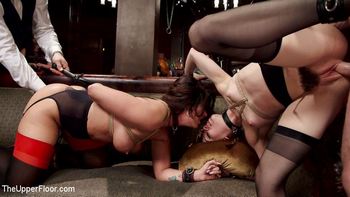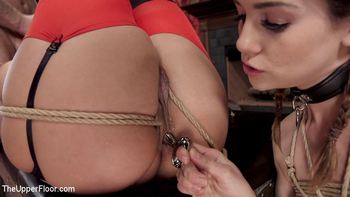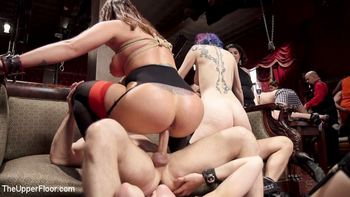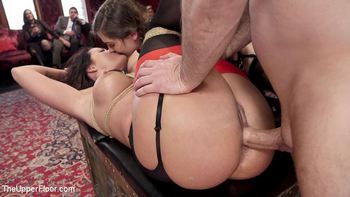 More details about

The Upper Floor
---
The Upper Floor takes you into the Kink castle's most luxurious and debased levels – no, not the dungeons, the Upper Floor where trained house slaves perform at events and are used by the horny masses who are free to do with them as they please!BRR The Upper Floor is literally the upper floor of the Kink headquarters-slash-castle in San Francisco. Here their
BDSM
society of doms, subs, friends and producers gather for decadent parties and events where slave girls are shown off, played with and passed around like party favors.
Episodes here can run well over an hour, and feature a mix of slave training and slave exhibitionism. They're walked around on colors, put naked on table tops on hands and knees so party goers can finger their wet pussies or pull on their nipples clamps. They are tied up and fucked hard by doms or left bent over, wet and willing to be taken by any hard cock or toy in the room.
Often there are multiple slave girls involved and the goings on can run for hours.
You'll have a few ways to enjoy the parties but by tuning in live and surfing between their multiple live feeds – from fixed cameras and cameras roaming the party floor – is probably the most exciting. If you miss a live event you can watch it in a more condensed and edited version online later. They keep all events on record here in HD to download and stream.
I don't think you'll find such lavish and immersive BDSM parties anywhere else online. The unique settings and great wealthy of Kink provides them with the means to do something totally unique, and the vision and quality to pull it off. Fans of BDSM and slave lifestyles will definitely want to have a look at this exciting site and its dominated and lovely slaves.
By joining The Upper Floor you also get FREE ACCESS to these great pay sites as a bonus!