Bottom Line
Bottom Line is Ultimate Surrender definitely lives up to the Kink Network name offering super kinky fetish content featuring sexy ladies who wrestles and fight in an effort to claim their victory and subsequent sexual conquest over their opponent. Does that sound hot to you too? It should! Check it out – it just might become your next top fetish porn site!
 Positives
Many HD Videos, Regular Updates, Exclusive Video
 Negatives
No Advanced Nav Feaures, Older Content is Lower Quality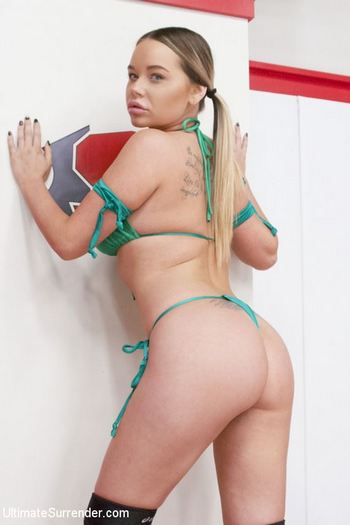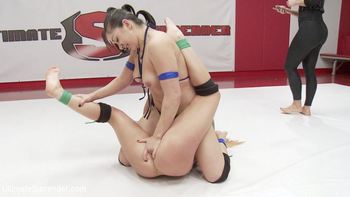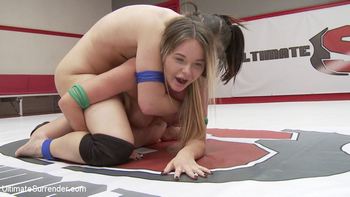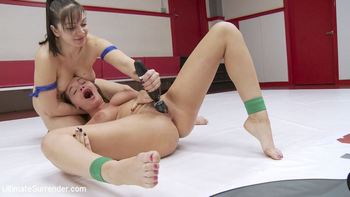 More details about

Ultimate Surrender
---
As far as I'm concerned, everyone has somewhat of a kinky side to them, no matter how small it may be. Are you aware of what yours is?
If not, and you like sports, then we may have an answer for you in the form of Ultimate Surrender. This top fetish site, brought to you by the folks behind the popular Kink Network, takes sexuality and sport and brings them together for a seriously hot collection of scenes. The premise here is pretty simple. Girls fight, or wrestle, in a ring and when the victor is determined, she also gets to outline how the loser is fucked. Everything is shot before a live audience – and just like any sporting event, they definitely get into it – perhaps even more so!
A large collection of specialized fetish content!
Considering the unique character of this particular Kink site, it's a bit surprising that they come in with the amount of content that they do. With more than 750 scenes and over 150,000 images, this is definitely a large collection. As with every site on the network, you'll find an active community which is facilitated and encouraged by the presence of discussion forums and the ability to comment on videos. In case you didn't already know, membership to one Kink site doesn't automatically get you into the rest – but it kind of makes sense considering how high quality they all are.
Speaking of quality, you'll find HD video coming in at 1280 x720. It's not the best of the best but it's still pretty damn good. One of the best aspects of the site is neither the quantity or quality, but the extent to which the site is built around the idea of these sex games. You'll find regularly updated fight rosters tallying wins and losses for each of the ladies (or should we say Amazons) and they periodically host special fights and tournaments to keep things red hot and lively!
Finding your way around is no problem thanks to a professional, clean layout. Upon arriving on the site you'll find yourself presented with the most recent updates. Users can browse based on this alone, or do so based on user ratings and number of comments. In addition those typical functions, you'll also find the competitor directory – or model directory – that contains some basic information about the girls as well as links to their own content. We'd love to see the addition of an advanced search, as well as the ability to save favorites though oftentimes it comes down to a debate between features and niche content. In this case, we'll go with the fetish!
Porn viewers who also enjoy sportive competition will definitely like this addition to the Kink Network!
There's no denying that the action that happens on this site is completely hot. The girls are gorgeous and really get into the spirit of the competition with lots of grunting, body slams, and ultimately, sweaty orgasms! Even if you don't end up getting a membership, this site is definitely worth checking out just to see what it's all about. It's unique and probably unlike anything you've ever seen before aside from in your wildest imaginings!
By joining Ultimate Surrender you also get FREE ACCESS to these great pay sites as a bonus!